The history of Italian art enriches interior design
A journey into creativity
It's really fascinating to explore how architecture and the culture of a population can be reflected in interior design. Italy is full of numerous very different artistic and cultural expressions. Every city, whether small of large, bears traces of the historical evolution of our country over the years: colours, squares and churches testify to this process and the passing of time; we are surrounded in our daily lives by urban landscapes that have been modified and enriched over time. Italy's places and stories are obviously invaluable sources of inspiration also for the studios of creatives, planners and interior designers, who draw, now more than ever, from our history, from art and from the thousands of expressions of Italian culture in order to transform them into ideas to bring into our daily lives today.
Turning culture into concepts
'Italian Landscape' is the first collection arising out of the collaboration between Ceramica Fioranese and the 23Bassi Milan-based firm, an architectural firm, an ideas factory, which combines design creativity and experimentation. 'Italian Landscape' is the collection presented during the last edition of Fuorisalone in Milan, during the 'The Art of Tiles' special event organised by Fioranese, a title that underlines the important link between the language of creativity, art and ceramics. It's a dialogue that has permitted the development of a collection that stands out for its originality and beauty, able to lend great personality to the different environments of our homes, thanks to its colours, shapes and new geometries.
Celebrating great beauty
This collection celebrates Italian culture in the best and most noble way, and at the same time perfectly represents Made in Italy, meaning excellence not only in terms of creativity but also of cutting-edge technology, of production processes that speak the language of progress and sustainability. Both Fioranese and 23Bassi know what it means to love Italy and its treasures, a territory from which it is possible to draw new inspirations and to appreciate in new ways. 'Italian Landscape' is the result of maximum compositional freedom, combining different decorations and colours in a regular or casual way; this surprising collection fits into any type of environment, generating emotions and aesthetic quality, to create a structured and tactile decor.
Harmony and freedom
Architecture, monuments, landscapes, works of art built by man or nature which, if observed carefully, reveal an iconic and replicable visual synthesis. Starting from the three central cities of Italy, Florence, L'Aquila and Siena, a similar number of landscape symbols have been chosen, from which to obtain the graphic design to be reproduced on the ceramic surface. These areas and cities represent an important and fundamental part of the history of Italian art, in which the natural landscape merges with the works of artists from throughout history, from Renaissance to modern artists, transforming Italian history into eternal works of art. It's a language made up of colours and forms that enchanted the visitors to the Fuorisalone for their beauty and harmony. A poetic amalgamation of art and life that lends an undeniable charm to this collection, with its the warm and powdery colours, allowing us to imagine the walls of the home as being like vast landscapes in which to rediscover dreamlike and primordial sensations with utmost freedom and creativity. A perfect synthesis between harmony and creativity.
New combinations of colour and forms
It's important to underline that 'Italian Landscape' is much more than a simple collection. Thanks to 23Bassi's creativity and the technology developed by Fioranese, interior designers will be able to use for their new projects 4 decorative subjects and 5 plain backgrounds with a cement texture, proposed in the small 20.5×20.5cm format with matt finish that make up the collection, lending it great versatility. They will enhance our surroundings with unique designs for wall coverings and floors for small and large spaces, whether for residential or commercial building contexts. The input of colour, through tone-on-tone combinations or unusual contrasting combinations creates a very trendy chromatic palette. The use of coloured joints, matching the furnishings or wall paintings, is a further creative element with which to generate infinite design possibilities.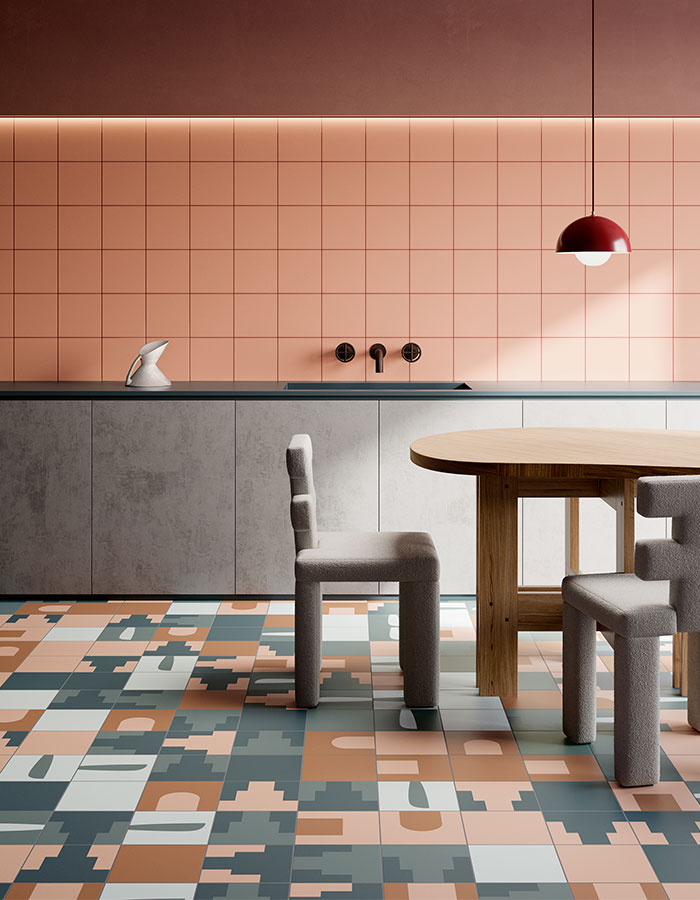 SHARE THE ARTICLE ON YOUR SOCIAL MEDIA PROFILES: