Striking hypnotic effects
Immersive experiences for unique reinterpretations with ceramics
Can a prestigious apartment in the heart of Brera become a venue for a number of days to present a new ceramic narrative made up of light, material vibrations and colour? This was absolutely possible with Ceramiche Coem, precisely during the latest edition of the Fuorisalone. Highly theatrical dreamlike spaces, special furnishings and drapery welcomed numerous visitors who found themselves immersed in a unique world, in which the volumes and spaces were reinterpreted by unusual lighting effects. Coem presented its latest collection in this really particular context, conceived and created by the Alessandro Pasinelli Studio, the fruit of a comprehensive collaboration, a perfect expression of the philosophy of the Fioranese company, incorporating sustainability, creativity and material language.
Falling in love with the latest interior design ideas
'The Art of Tiles', the unconventional event organised a few weeks ago by Coem welcomed lots of visitors that were able to discover in advance the new 'Moiré' collection, characterized by a large format, graphic, contemporary and decorative marble-effect surface, in a highly captivating and original way. The term moiré indicates an element of interference, created in this case by two identical grids superimposed but slightly shifted at a different angle, further developed by putting together three colours for each nuance. The surfaces of this collection have, therefore, an original texture, similar to moving waves that appear to our eyes to generate another different texture with a fascinating design, making us realise how easily our eyes can be deceived. It's an original idea involving a combination of colours, forms and dimensions which can certainly inspire many interior designers looking not only for a different finish, but a genuinely original concept which reinterprets contemporary life, underlining touches of balance and harmony.
Versatile elegance
This collection is certainly characterised by exceptional versatility. Original for its combinations and dimensions, the 'Moiré' collection is composed of 6 colours in warm and cold tones in the large 120×280cm format and 6 mm thickness. Every slab has a single face and is 'seamless' in order to facilitate laying and composition. The particular optical effects create elusive tone-on-tone motifs that vibrate the delicately elegant surfaces, creating a harmonious dialogue with spaces, modifying its appearance and perception in order to create evocative atmospheres. It's a collection that makes it possible to reinterpret the volumes of environments, lending spaciousness and visual continuity. Thanks to the different combinations of the colours and nuances available, it will be possible to bring out the best in contemporary and modern furnishings, making spaces particularly welcoming, with a sophisticated touch.
Large spaces with graphic effects
What was once in the graphics industry considered to be a defect, that is, the undesired appearance of blurred streaks, becomes, instead, in this collection, thanks to the advanced technological processes used, the true added value of these new ceramic surfaces. The particular optical effects create elusive tone-on-tone motifs that vibrate the delicately elegant surfaces, creating a harmonious dialogue with spaces, modifying appearance and perception to create evocative atmospheres. 'Moiré's maximum expression is achieved in the covering conceived for large surfaces, thanks, in fact, to the infinite graphic movement that is generated through the combination of the slabs. The Horeca world is certainly the one in which the collection can best express its aesthetic and practical characteristics, such as, for example, hotel floors and walls, shops and public locations, while in the residential context, 'Moiré' is suitable for covering portions of walls and architectural structures combined with plain-colour or stone and cement backgrounds. Maximum versatility in its use allows for personalising environments as desired.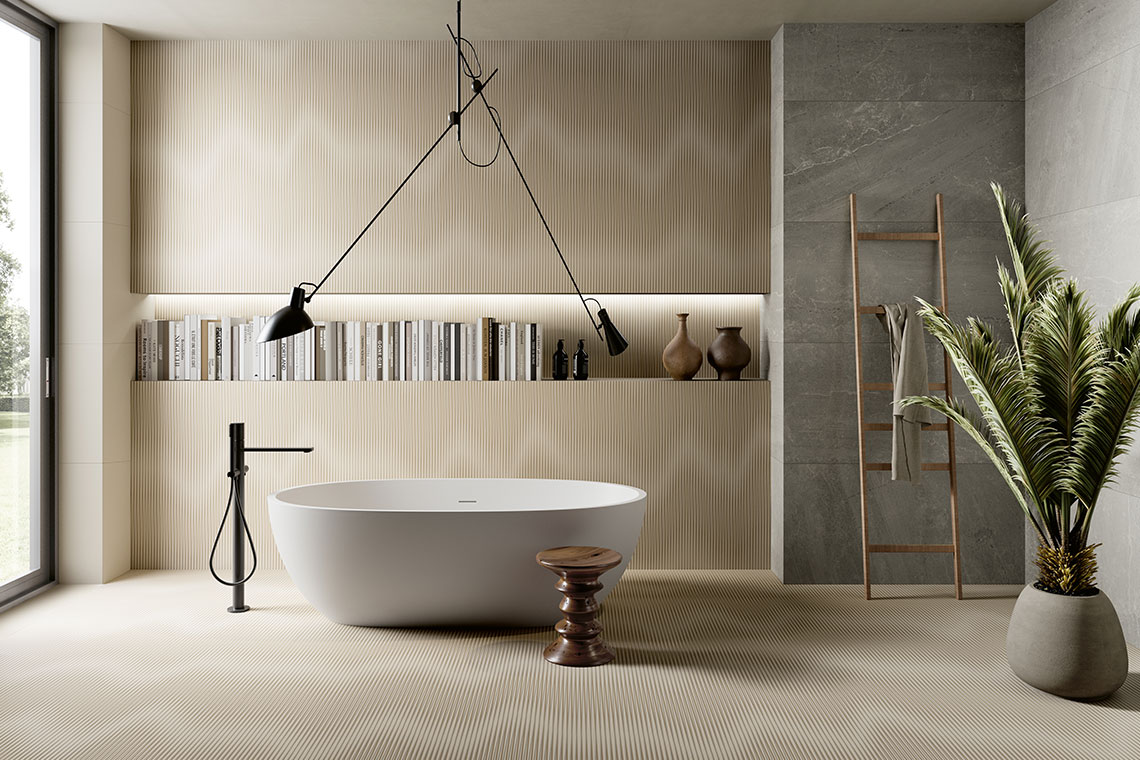 SHARE THE ARTICLE ON YOUR SOCIAL MEDIA PROFILES: