Fioranese Cersaie 2023: yes we create
New ideas for interior design, thanks to Fioranese
Creativity and originality: this is the common theme that united all the new ideas presented by Fioranese in the 2023 edition of Cersaie. The ceramic covering has today become, more than ever, a surface to be designed and no longer just decorated, and Fioranese, also thanks to unique initiatives such as ITALIAN LANDSCAPE, knows perfectly how to interpret this trend. The edition celebrating 40 years of the international trade show gave further opportunities to reflect on the world of interior design, also thanks to a special tribute exhibition, Route 40, devised by Davide Vercelli and set up by Dario Curatolo, in which Fioranese was involved and in which the CEMENTINE 20 and RIGGIOLE collections were the main stars of the exhibition; an authentic journey back in time to relive the evolution of bathroom furnishing and ceramics in the last forty decades. Our way of living and of using the spaces where we live has certainly completely changed over time, as has the way to design; we can say, however, that the ceramics world has known how to adapt to all the evolutions of style and taste, demonstrating a chameleonic versatility that continues to fascinate architects and creatives.
Cersaie 2023: an edition that we will certainly not forget!
A new idea of ceramics
'yes we create' is the concept that perfectly sums up Fioranese's vision, an approach that embodies a passion for innovation, design and the creation of unique and particular spaces. Fioranese takes inspiration from the latest trends in the world of architecture and interior design to create its collections. Once more, its products stand out for their versatility, permitting architects and experts in the sector to design new spaces, helping them to face the most audacious challenges with greater discernment and to create unique and unparalleled visions. Cersaie 2023 was a very particular edition, during which Fioranese was able to interpret once more the true Made in Italy spirit: the ceramic world becomes truly borderless and spaces take form thanks to the new collections to be discovered and lived.
Constructing spaces, living experiences
Ever more fluid environments, contemporary spaces that also speak the language of digital. Fioranese decided to take part in Cersaie 2023 not only with the Bologna exhibition spaces and the Temporary Space at the Fiorano site, but was eager to share its world of new ideas with all interior design enthusiasts, architects and designers thanks to a twin virtual space still visitable today on its website! It's another way to participate but also to continue to reflect and, above all, imagine how to create and personalise our new environments. This is all thanks to an always open, always available digital space!
It's still possible today, therefore, to enter the exhibition space conceived for Cersaie 2023 and discover the settings, find descriptions of the new series, lots of videos and all the product catalogues. In this way, it's also possible to create your own interior design digital library! We invite you to enter and visit the welcoming and elegant all-embracing space where you can let yourself be inspired and excited.
Visit the Virtual Stand here!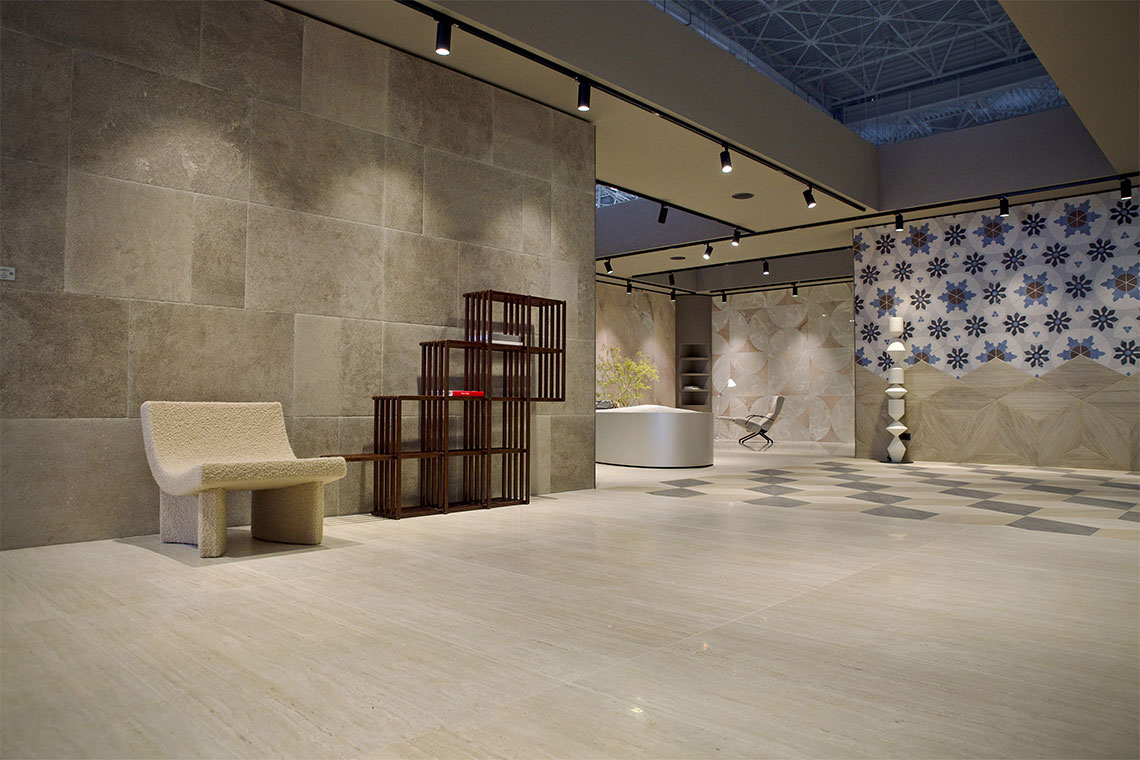 Art & Ceramics
Finding new ways to communicate, also on different levels, is not easy. Thanks to the development of the Temporary Space in Fiorano (MO), Fioranese has created a magic and dreamlike space in which ceramics are interpreted in the most poetic way possible. Light, form and material blend in a new journey, in which space becomes an emotion to experience and share. Thanks to the video available on the site, ceramic and art can enter our homes in a special way. It allows you to visit the many small environments that speak a new language and help to reflect on the times we're living through in a different, intimate and original way.
Look at the video!
New trends to redefine contemporary living spaces
Lots of new ideas were presented by Fioranese, different ways to interpret spaces, because each one of us is unique and has their own personal vision of home living. In the last few years, concrete, in its many colour versions, has become incredibly popular in interior design, thanks to its industrial and contemporary look. The ŌGI collection interprets perfectly this refined and elegant mood, combining the majesty of Majolica, creating a fascinating contrast.
The SENZATEMPO collection makes it possible to reinterpret the charm of past times, specifically, travertine, which enchants with its austere, majestic and elegant presence, tracing an indelible link between art and architecture.
Another new idea is the BRIDGE collection, which, thanks to the ROMBO (lozenge) format, laid individually or combined with the relevant chevron, introduces numerous laying possibilities, both single- and multi-colour. There were, inevitably, a number of new ideas for the Cementine, symbol of retro design, and a veritable iconic Fioranese product. For Cersaie 2023, as many as 4 ideas inspired by the by now iconic CEMENTINE 20 were presented in the new lozenge format. And that's not all: the Cementine by Silvia Stanzani Design received a special mention as part of the "ADI CERAMICS & BATHROOM DESIGN AWARD 2023" with the following motivation: "A special mention to a product that in ten years and nine collections has constructed an enormously successful product type, recuperating an Italian tradition, reinvented in a technological, design and production vein."
UNICA, in the new colours presented, Crystal White and Misty Rose, represents elegance and magnificence, and makes it possible to obtain extremely particular graphic effects for environments with an elegant and sophisticated mood.
Sobriety and refinement are combined in AUTENTICA, a collection inspired by two natural stones of limestone origin. History and design in an elegant dialogue for timeless atmospheres.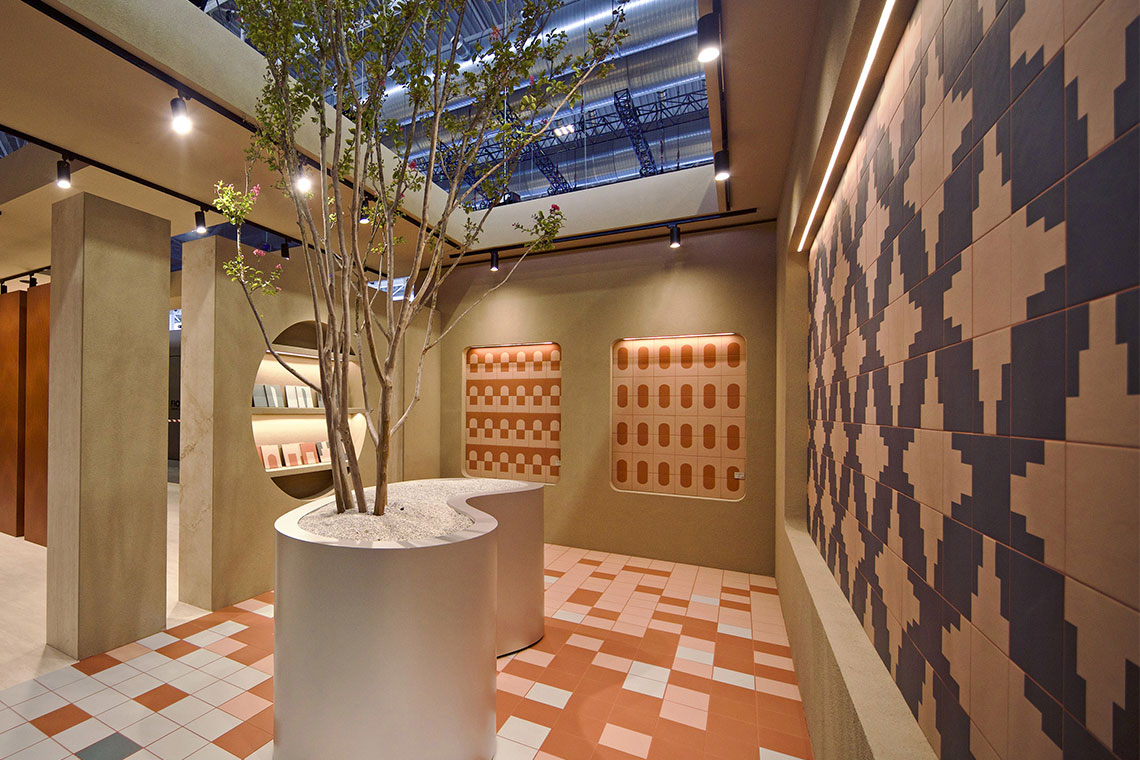 Made in Italy: the true protagonist
After the launch in Brera, during the last edition of the Milan Design Week, Fioranese presented in the Bologna Trade Show ITALIAN LANDSCAPE: the collection assigned to the Milan architecture studio, 23Bassi, with which the brand shares a love of Italy and its treasures. It is precisely this love for our cultural heritage, made up of works of art, architecture, monuments and landscapes, that gave birth to the concept of this new line that reproposes on the ceramic surface a series of graphic motifs that reinterpret landscape symbols with relation to three Italian cities, Florence, Aquila and Siena.
Besides the special set-up of the ITALIAN LANDSCAPE stand in Cersaie, it was the protagonist of an event called "VideoMapping in a Courtyard", held in the evenings of 26 and 27 September in the prestigious Palazzo Aldrovandi in the centre of Bologna. The 23Bassi architects Chiara Frigerio and Andrea Roscini were present at the first evening. Truly all-round technology and design! There is a special review of this collection also in Elle Décor; read the article at this link
SHARE THE ARTICLE ON YOUR SOCIAL MEDIA PROFILES: