How to furnish the pool area with imagination
Design settings for striking outdoors
How to furnish the pool area in a way which is both splendid and practical at the same time? Designed in the right way, a pool area should be completely at ease with its surroundings rather than simply an additional function; it's therefore important to carefully choose what to include in our project to create a striking and welcoming outdoor area. Suitable materials that fit perfectly with the architecture of the house and the garden's features should be used for this special area. For example, always remember to include lunch areas and elegant seating next to beautiful plants and to set up atmospheric lighting for evenings with friends to spend time together after sunset. Nothing must be left to chance!
The perfect shade
Essential elements for being able to spend enjoyable days at the poolside are sun umbrellas and awnings: it's fundamental today more than ever, to protect ourselves from the burning sun and create a shaded area. Besides offering shelter from the sun, they add a touch of style and furnishing to the pool. It's possible to opt for white awnings that lend an atmosphere of Greek islands or more coloured fabrics to liven up our outdoors. An extra tip? The sun umbrellas and awnings should be designed to be easy to install and equipped with simple and intuitive opening/closure systems to quickly adapt the set-up according to the needs of the moment.
Original lunchbreak
A trend in recent years in outdoor furnishing is certainly that of setting up a bar or external kitchen next to the pool. This allows for organising outdoor parties or dinners without having to move too far. You can install barbecues, mini-fridges or simply a counter for preparing and serving drinks and food in a practical and comfortable way. Outdoor kitchens, made of high-quality materials and with a design with attention to the smallest details, are perfect for creating a welcoming and sophisticated environment in the garden, terrace or poolside. One of the aspects that characterises it is the choice of materials, resistant to weather conditions, such as stainless steel, stone or concrete, which guarantee the durability and necessary resistance in the event of exposure to bad weather and UV rays.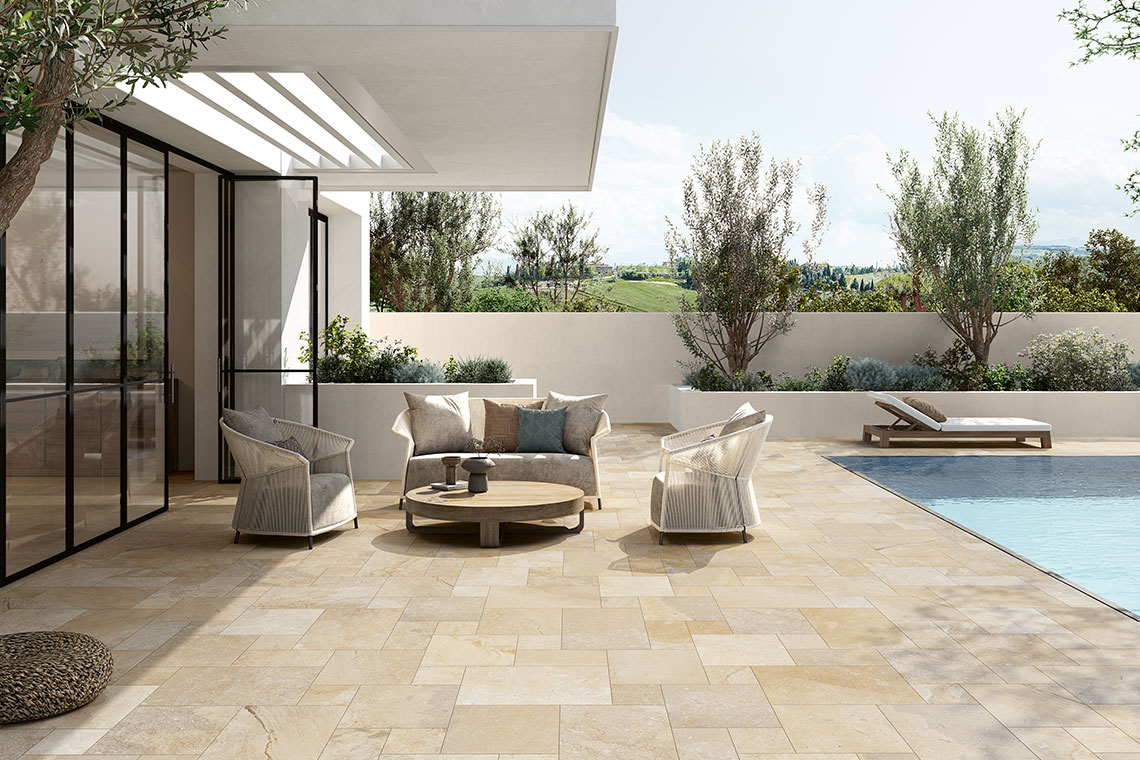 Sun loungers: outdoor design for perfect relaxation
Indispensable elements for furnishing the pool area or for enjoying the sun in the garden, outdoor sun loungers should be a perfect synthesis of comfort, aesthetics and practicality. Placed on the lawn or under the patio, they will enable you to spend wonderful evenings and will provide a perfect way of delimiting the spaces dedicated to the swimming pool in an elegant and practical way. The look should be chosen on the basis of the space to furnish and personal taste: from classic profiles to more contemporary ones, in teak, resin or in aluminium, the sun loungers can be completed with waterproof mats or technical fabric sheets for outdoor use. They can have wheels to facilitate their maintenance and movement and it's necessary to remember that folding models make storage easier and more practical during the winter, while we wait for the sunny season to return!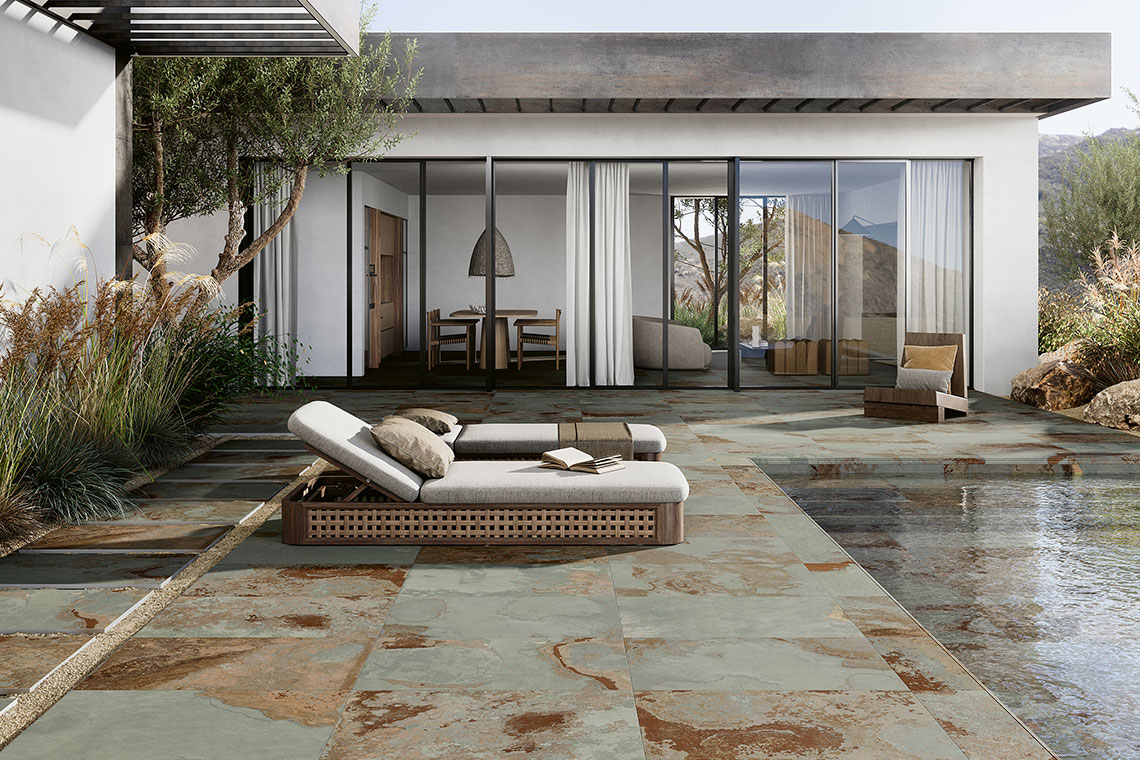 Perfect finishes for our pools
Choosing the finish for the floor framing our pool is essential for creating a safe and welcoming space. Coem offers many collections that make it possible to enhance outdoors on the basis of the availability of spaces, making the pool a real key feature of our garden. On the Coem site it's easy to find the right finish for the pool by making appropriate selections on the 'Collections' page. Thanks to this digital tool it's easy to choose from between the different options.
An example of a simple and refined collection? AQUITAINE is the answer! A ceramic tile inspired by the naturalness of certain floor stones used in French architecture, very suited to a fresh and "country" style, really perfect for the pool area; the latest new and beautiful colour in this collection, Silver, really lights up the setting.
If you love green nuances, then BALI Light Green is the one for you; its graphics, perfect for the pool area, are clean and irregular and reinterpret on tiles a slate stone effect dense with matter. With this wonderful collection you will enchant your guests, inviting them into elegant and exotic atmospheres.
The CARDOSO collection is classic, but also contemporary, inspired by Pietra di Cardoso, a dark grey stone tending to turquoise from the not very deep metamorphism of sandstone; this stone-effect porcelain stoneware has light streaked veins that lightly move the surface with a soft texture to the touch but which is, nevertheless, highly resistant.
In addition, you can create very warm and welcoming environments near the pool thanks to the GOLDENSTONE collection, a stone-effect tile with typical veining that that make it lively and naturally captivating; a truly modern collection in its simplicity.
Finally, more traditional but extremely material, there is the effect of the impressive TUFFEAU stone. We can use for our outdoors the uniqueness of this rock, like the blocks extracted from cliffs since ancient times, with its ability to the reflect the history of the environments it covers.
In conclusion, a genuinely welcoming and functional environment can be obtained by furnishing the pool area with creative ideas.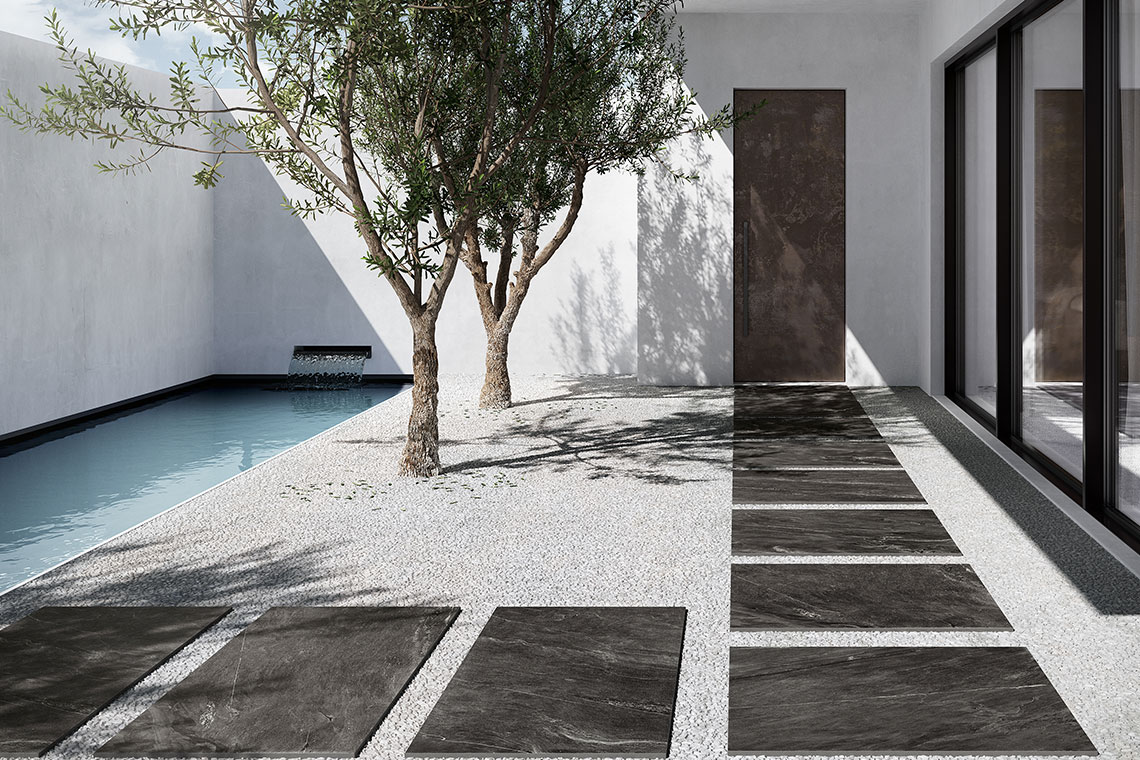 SHARE THE ARTICLE ON YOUR SOCIAL MEDIA PROFILES: