Renewing the outdoor area: what outdoor paving to choose?
Let's create an oasis of elegant and original wellbeing
With the first thoughts of summer holidays and with the arrival of splendid sunny days, there's a strong desire to renew the outdoor area, making it a veritable continuation of the indoors. Solutions designed for the outdoors are taking on a fundamental role; the trend is, in fact, that of searching for homes with outdoor spaces, gardens, terraces or balconies where you can relax or welcome friends. Knowing how to choose the right finishes, closest to the style that most reflects you, is very important, right from the design of the outdoor space. This is where Ceramiche Coem comes in; it has developed numerous collections which are perfect for different outdoor spaces in terms of style and finish, all respectful of the environment and perfect from a technological point of view in order to remain beautiful and last over time.
Beautiful and safe
For our outdoors, it's important to have an accurate design studied down to the last detail, just like a room in the house. Besides the furniture (chaise-longue, pouf, armchairs, outdoor seating areas, tables, etc.) first of all, it's necessary to consider the selection of the outdoor surfaces, so as to create a functional eclectic, versatile and safe environment. Give that outdoor spaces are particular exposed to adverse weather conditions, especially rain, it's a good idea to select coverings that are able to guarantee excellent waterproofing and which have high-level drainage characteristics. Outdoor surfaces are specifically designed to adequately resist thermal shock and continuous exposure to sunlight which, otherwise, could alter the colour uniformity of the entire surface.
The perfect solution
Porcelain stoneware tiles for outdoors are the ideal solution for reinventing and transforming outdoor areas in style. This material, thanks to the new production technologies they are made with, makes it possible to perfectly cover gardens, terraces or swimming pools without risking unpleasant infiltrations, lifting or cracks. What is more, thanks to the numerous solutions on offer, it's possible to choose between different collections with different styles, colours, textures and finishes, which can be perfectly coordinated with the style choices of the entire home. There are truly lots of collections in porcelain stoneware specifically for the outdoors, from which you can choose in order to personalise your outdoors to the maximum, such as, for example, the STONE effect, also in the rustic or ethnic finish, or the WOOD or MARBLE effect.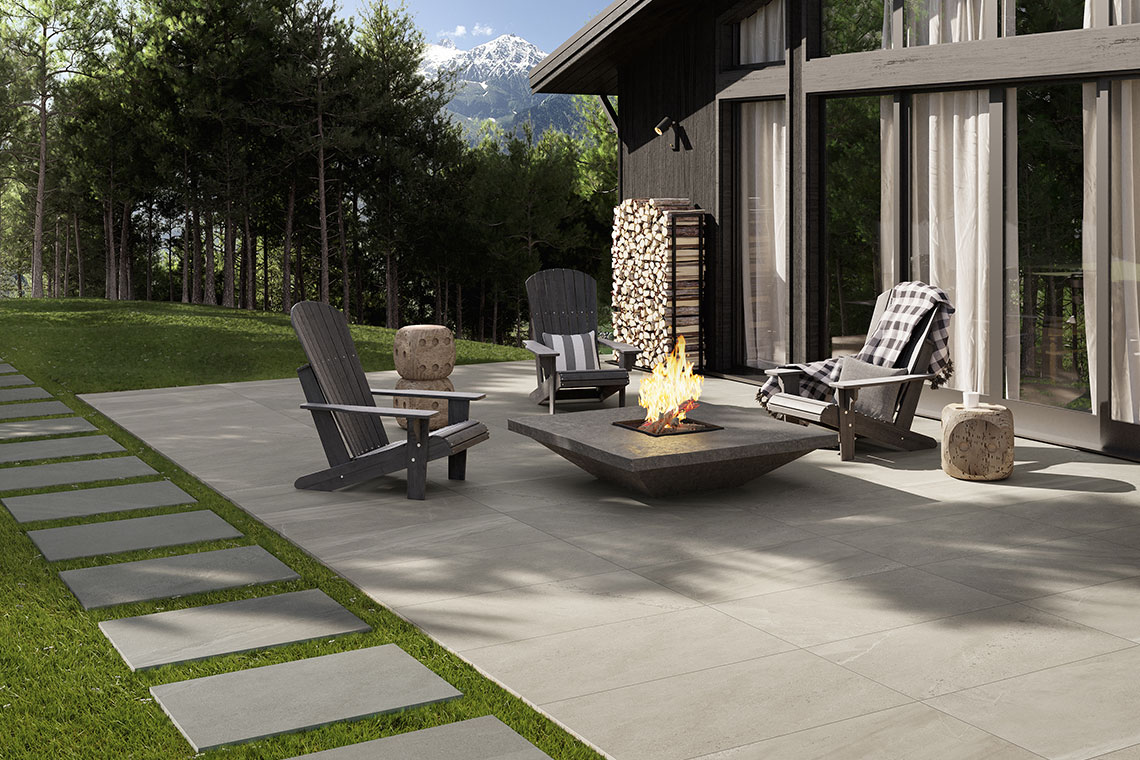 Enhancing outdoor spaces making them liveable and welcoming
In general, to identify the most suitable covering, it's a good idea to carry out a general assessment of the context. A darker flooring is, for example, very suitable for those who want to lend allure and timeless elegance to the whole environment, while a covering with neutral nuances is ideal for bringing out or creating a connection with the garden, flowers and plants. Paving and walkway finishes allow us to create very charming atmospheres, but also particular patterns, lines, volumes and motifs, ideal for giving character to the outdoor space and for creating areas with a high visual impact.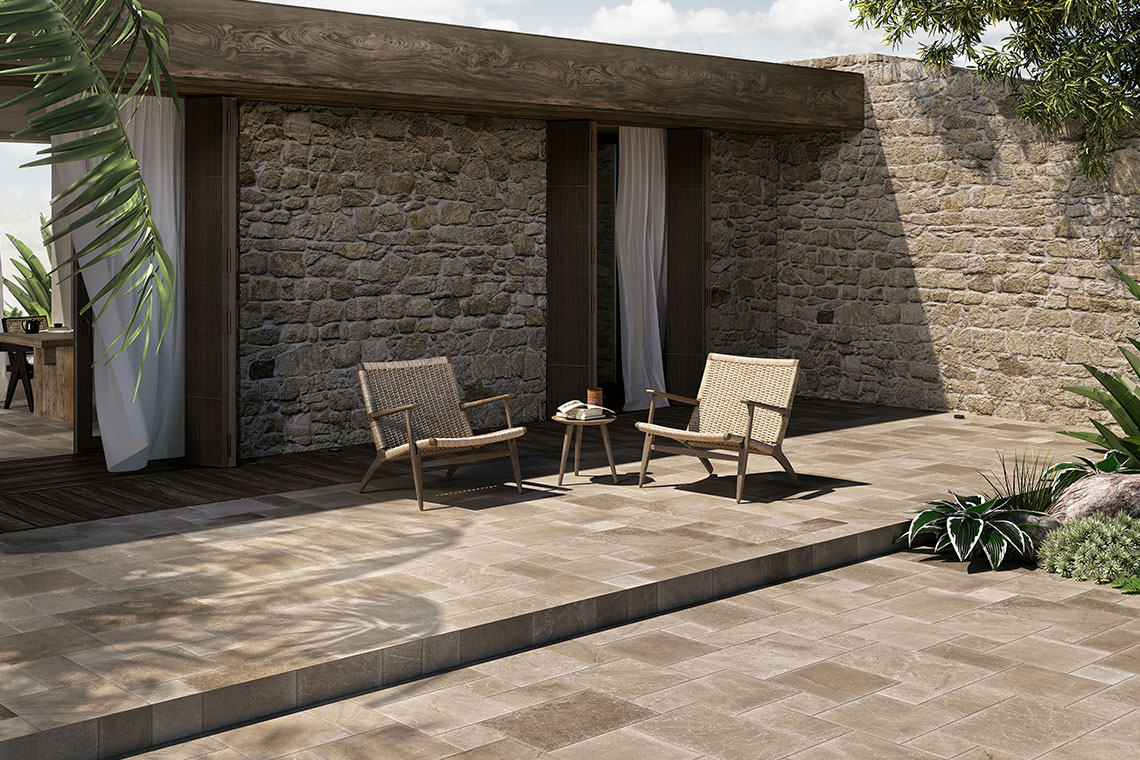 Coem: your partner for outdoor surfaces
If you are looking for ideas for a perfect paving, to create an outdoor area which is ideal for your summer days and evenings, you can find absolutely everything you need on the Coem website. Lots of ideas, contexts and advice for lending your outdoor space an irresistible charm. One example among many? If you love the warmth of a wood effect, the LIGNEA and AFROMOSIA collections will allow you to make the outdoor space particularly welcoming, thanks, most of all, to the brightness that these two solutions produce: the light is collected and multiplied, making the outdoor area shine. If, instead, you prefer a more material effect, close to nature, you can opt for the SCILIAR, BRIT STONE or REVERSO collections; different stone-effects, from travertine, to Burlington stone, for minimalist outdoors in which the space dialogues directly with the surroundings, creating a whole with the interior spaces while establishing, at the same time, new equilibriums for contemporary living. If, on the other hand, we want to develop an outdoors that amazes our guests, we can opt for the MASSIVE STONE and BALI collections, the first with a more rustic flavour, but reinterpreted in a modern and bright manner, while the second takes us to the fascinating ethnic world, and whose green-light blue-yellow-brown-red shades are already found in nature; a thousand different shades for this inimitable stone-effect. Finally, if we are looking for a really special effect, the perfect setting for unforgettable evenings in the company of friends or perhaps at the poolside, we can choose the CARRARA EFFECT collection; the elegance of the marble effect is a perfect synthesis of the best of Made in Italy.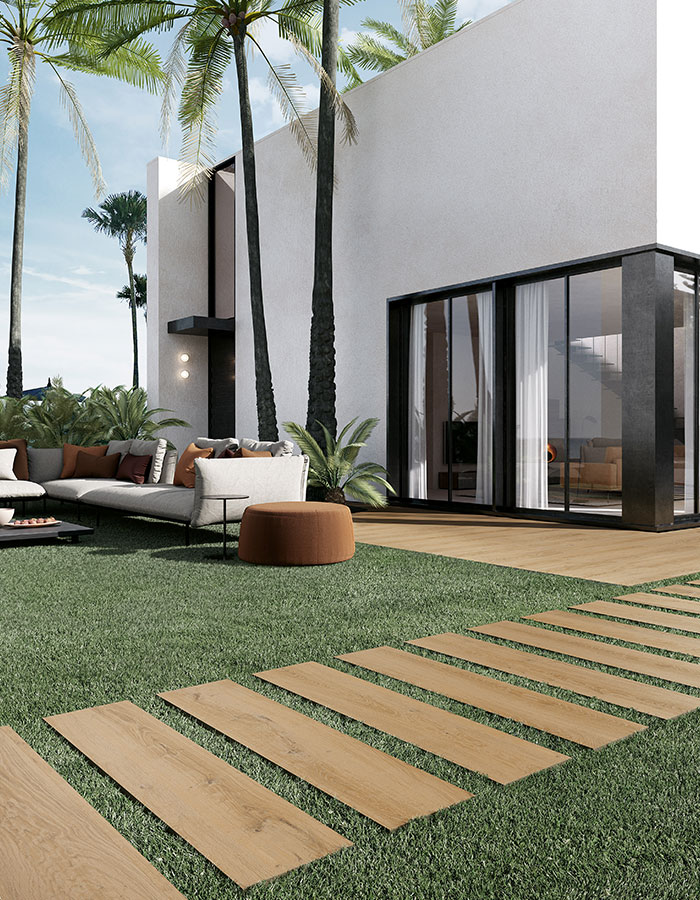 SHARE THE ARTICLE ON YOUR SOCIAL MEDIA PROFILES: